The other day my husband and I were driving down the road towards the pet store.  We were officially out of treats for the dogs and they let us know it that morning when they sat at the empty treat jar on the counter long after Craig left for work and I started painting.  So, because our dogs are severely spoiled rotten we love our dogs so much, we headed out at 6:30 that evening despite the fact that it was raining. 
Craig was driving which gave me a chance to sit back and gaze out the window.  I spotted a figure alongside the road, probably about 50 yards ahead of us.  I watched as we grew closer to each other.  For some reason, though I couldn't figure out why at the time, this person looked odd.  It wasn't until I was nearly 30 feet away that I realized what the young man was doing. 
'Hey!!'  I said to Craig and pointed.   'He's retro-walking!' which is my term for walking backwards.
Since my surgery a couple of months ago I've been fighting to stay active.  My definition of active has changed considerably since surgery.   Before, I had a hard time finding a moment to sit down long enough to tie my shoes.  Post-surgery however, has left me struggling to get back into a routine.  Everything makes me tired.  Everything.  In fact, right now I need to get up and brush my teeth but if I do, I'll come back to this laptop and instead of finishing my post I'll set it on the floor because I'll need a nap after all that activity.  lol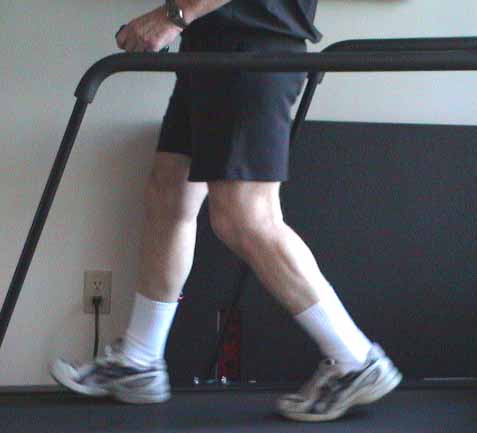 (Rest easy, ladies – retro walking has not changed my lower body type to that of the opposite sex.  The guy has good lookin' legs though, no?) 
Retro-walking has actually been one of the few things I've been able to do that leaves me feeling tired, but in a good kind of way.  I used to do this as an exercise during the winter months when it was too cold to walk outside and I needed something, anything to take the boredom out of walking on the dreadmill in my dank basement.   I'd read that it was good when recovering from an injury because it was easier on the joints, but happily found out that it was easy on the entire body as well, even after abdominal surgery.  I was able to start out as slowly as I needed and still felt the benefits of elevated heart rate.  Just so you know, retro-walking increases heart rate up to 47% more than when walking forward!
Another benefit to retro-walking after surgery was that it helped with my post-anesthesia 'brain fog'.  For weeks I suffered from a hazy state of mind (remember when I accidently signed up for an online dating service?)  When walking backwards, either by treadmill or on any flat surface it takes some getting used to.  You really have to think about what you're doing.   I had to clip the safety key from the treadmill to the tail of my shirt so if I veered off the platform I could just pull away from the key and not careen into the wall. 
This brings me to another reason why I was intrigued by the guy I saw the other day.  I for one, wouldn't dream of walking backward on a busy street.  Knowing me, I'd step smack in the middle of a pothole or worse: road kill.   No thanks.  For me, I like the safety of my treadmill for this exercise.  If you on the other hand, are a fly-by-the-seat-of-your-pants, throwing all caution to the wind kind of person and want to head out right now and try it for yourself, here are a few tips that will keep you safe whether inside or outside:
if using the treadmill, start out slowly.  Give your body time to get used to the motion of walking backward.  After all, how often do you normally do this, right?  
the recommended distance for the first week is .25 of a mile. 
clip the safety key from your treadmill to the tail of your shirt.  This way, if you should happen to lose your balance, you won't hurt yourself.
Once you feel comfortable enough, let go of the side bars on the treadmill.  You'll get the most benefit this way.
if retro walking outside, start out on a smooth running track, or walk with a partner who will forward walk; this way he or she can warn you of potholes, uneven ground (again, think potholes) and help you set your pace.
One of the things that I find upsetting here in my neck of the woods is that there are barely any sidewalks on which to walk.  It's unfortunate if you want the convenience of putting on your shoes and heading out the front door.  Unless I want to be in my basement on the treadmill I have to get in my car and drive elsewhere in order to exercise.  A friend of mine once wrote to the mayor of our city and asked why there were no sidewalks.  The answer? They didn't want anyone walking because they felt it was too dangerous for pedestrians.  Well then, where do we walk?   There are plenty of places for bikers, but walkers still struggle in finding a safe place to exercise. 
Is it just me or have sidewalks become a thing of the past?  I remember when I was a kid and it was strange NOT to see a sidewalk.  Do you have sidewalks where you live?